Council Member Dilan Attends Foundation Board Meeting
At the October Plumbing Foundation meeting the Board of Directors and invited guests were honored to have City Council Member Erik Dilan as a speaker. Council Member Dilan serves on a variety of committees including the Governmental Operations Committee, Public Safety Committee, Rules Privileges & Elections Committee, State & Federal Legislation Committee, Public Housing Committee. Most importantly to the plumbing community, he is also the Chairman of the Housing & Buildings Committee.
During the meeting Chairman Dilan discussed a variety of topics including the 2011 Plumbing Code revisions, enforcement of unlicensed and Cover-up Plumbers, and the "Green" movement in New York City construction. Council Member Dilan has been a great advocate for the plumbing community.
Last year Chairman Dilan sponsored Local Law 17/2010 which established a $2500 fine for anyone who performs or advertises the ability to perform plumbing or fire suppression work without a valid New York City plumbing/fire suppression license.
Chairman Dilan has been a champion of the plumbing industry for a number of years and the Foundation thanks the Council Member for all of his efforts for the licensed plumbing industry.
Asbestos Compliance for New LAA Form
As part of the new LAA filing procedure, which includes BOTH LAA online and physical hardcopy submissions, DOB will no longer be accepting Asbestos forms. All ACPSs and ASB7s must be submitted directly to DEP. There is some industry misunderstanding as to the submission process for asbestos paperwork. Below is what the Plumbing Foundation understands the asbestos compliance process to be:
LAA form Section # 6-"Asbestos Abatement Compliance"-All LAA applicants are required to check one of the three options listed in Section 6. Two of the boxes (box 1 & box 2) require the submission of paperwork by a Certified Asbestos Investigator prior to the start of the work. These forms (the ACP5 & ACP7) must be submitted online to DEP, by the Asbestos Investigator, via DEP's Asbestos Reporting and Tracking System (ARTS). ARTS is for Certified Asbestos Investigators only and is not available to Licensed Master Plumbers. ARTS has the ability to produce a confirmation of the submittal to DEP. Every LMP should request that confirmation from the Certified Asbestos Investigator, as well as a copy of the report itself. DOB may audit LAAs filed by LMPs and request the confirmation that the forms were filed at DEP. Failure to have such documentation can result in very serious penalties imposed on the LMP.
Emergency LAAs -The "Asbestos Abatement Compliance" Section must be completed at the time of the LAA submission. Obviously, in the case of Emergency LAAs, the asbestos forms cannot have been completed by the Certified Asbestos Investigator. We suggest that when LAAs are filed online in "Emergency" situations, the applicant indicate in Section SF [Description Section] that this is an "Emergency" and that asbestos forms will be obtained as quickly as possible.
News From Con Edison
With the cooler weather approaching, now is a great time to highlight the importance of regular maintenance on your customers' heating systems. During your annual maintenance calls discuss with your customers the benefits of replacing their aging and inefficient systems.
Con Edison's Heating and Cooling Rebates for Homes program is available for qualifying systems installed prior to December 31, 2011.
For more information on some recommend steps to optimizing boiler efficiency visit www.achrnews.com.
Public Works FAQs
The Foundation receives frequent inquires from Licensed Master Plumbers regarding public work jobs/prevailing wage issues. The Foundation is not a government body and cannot answer many of these questions. However, the Foundation can distribute information from the various government agencies and bodies that oversee prevailing wage jobs. The Foundation suggests that when questions of this nature arise to contact the appropriate controlling authority for that project: the Federal Department of Labor, NYS Department of Labor, or New York Comptroller's Office. Listed below are a few FAQs from the NYS Department of Labor:
http://labor.ny.gov/workerprotection/publicwork/PW_faq1.shtm#0
If there is a question as to whether a contract is "Public Work," who should a contractor contact?
The Bureau of Public Work will provide advisory opinions upon receipt of a written request.
Does the Commissioner of Labor enforce the prevailing rate requirements on public work projects in New York City?
The Commissioner of Labor enforces the prevailing wage requirements on all projects lead by the State or its political subdivisions with the exception of projects lead by the City of New York. For New York City public work projects, the New York City Comptroller is responsible for the enforcement of Article 8. Any complaints or questions on public work projects lead by the New York City Comptroller; Municipal Building, Room 530, New York, New York 10007.
May contractors request an opinion from the Bureau of Public Work when there is a classification question as to which trade and rate to use prior to bid?
Yes, requests should be made in writing and include sufficient information regarding the work in question. All requests should be forwarded to the Public Work Office nearest to where the project takes (place).
What about the use of apprentices?
No employee shall be deemed to be an apprentice unless the employee is individually registered in an apprenticeship program that is duly registered with the Commissioner ofLabor. (Section 220, sub d3)
How are apprentice ratios determined?
Apprentice ratios are determined by occupation and are outlined in the Apprenticeship Training Program established by the New York State Department of Labor and the Apprentice Program sponsor.*
Can trainees or helpers or pre-apprentices be used on a public work project?
They can only be used if they are paid at the journeyworker rate. Only registered apprentices can be paid less than the journeyworker rates.
*For Plumbers the ratio is 1:1;1:3 there must be one journeyworker for the first apprentice, and 3 additional journeyworker for each subsequent apprentice.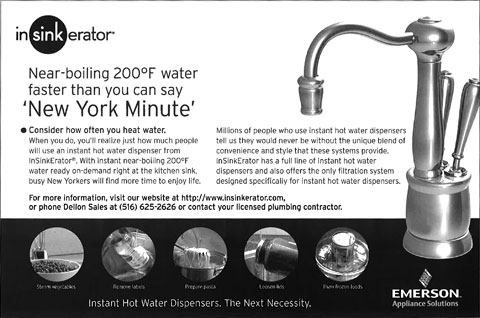 News Updates from the Department Of Buildings
As part of the Plumbing Foundation's efforts to ensure the safety of New York City by working to stop unlicensed plumbing work, below is the backside content of the direct mail piece that was the direct mail piece shown below was distributed throughout the City. This mail piece was sent to over 10,000 individual Co-op Board Members, Co-op Managers, and Superintendents explaining the legal and safety pitfalls inherent in using unlicensed persons for plumbing work.
PLUMBING LICENSES
Permits for plumbing… are only issued to a licensed master plumber (LMP). Only these licensees-or the employees they supervise-may work on piping systems. The Department issues LMP licenses to contractors qualified to perform plumbing, standpipe, and sprinkler work (for less than 30 heads). Plumbing contractors must be qualified to do the plumbing work they were hired to perform because improper work can create serious danger. For example:
Incorrect gas line work can cause a fire or explosion;

Cross connecting pipes can contaminate drinking water; and

Improper gas boiler work can cause a fatal buildup of carbon monoxide or a gas explosion.
NYC Construction Code §28.401.3 requires licensed plumbers to include their license number and business information on trucks, business cards, and advertisements. When hiring a licensed plumber, have a written contract that includes the contractor's company name, address, and license number(s).
Report work by unlicensed contractors or misconduct by licensed professionals: Call the Department's Internal Audits + Discipline Unit at (212) 422-2000.
WORK WITHOUT A PERMIT
Property owners and the people performing plumbing work without a permit may face violations with penalties, court appearances, and civil or criminal penalties [minimum $5000 fine]. However, some minor projects aren't subject to the permit requirements. Simple repairs or replacing existing faucets, toilets and sinks are considered cosmetic; someone without a license may do this without a permit.
Reprinted from NYC Department of Buildings "Industry Professional" and "Homeowner" Tool Kits – 2011
Foundation's Environmental Statement
Since its establishment in 1986 the Plumbing Foundation has worked diligently to ensure that the plumbing industry has as little a "carbon footprint" on New York City as possible. The plumbing industry has historically utilized environmentally friendly materials like recycled cast-iron and copper piping/fittings. The Foundation will continue its role of protecting New York City as well as being an advocate for the environment by strengthening its water/sanitary regulations thereby lessening the City's wasteful water consumption.