2011 Plumbing Industry Promotion Fund Scholarship Award Winners
The Plumbing Industry Promotion Fund of New York City Holds Awards Ceremony for Recipients of Its 2011 Scholarships
The Plumbing Industry Promotion Fund of New York City holds a ceremony for the 10 recipients each year. Each Student was awarded an annual $2,000.00 scholarship. The Promotion Fund provides $80,000 in scholarship each year, to help defray their higher education costs over the next four years. The Plumbing Industry Promotion Fund of New York has been awarding scholarships for 30 years. To date, the Promotion Fund has disbursed over $930,000 to more than 400 students. Participants in the Scholarship Program may attend any accredited college, university or approved technical institution in the United States and may select any course of study.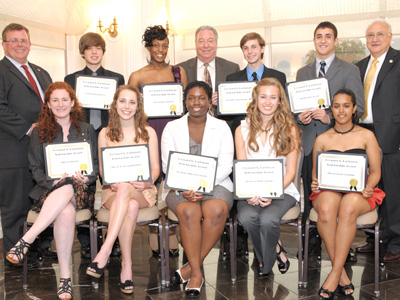 ACP 2011 Charity Outing
ACP Fundraises for Our Communities
More than 225 members of the Association of Contracting Plumbers of the City of New York Inc. (ACP) and their guests participated in its Annual Charity Outing. In 2004 the ACP decided to use its "Plumbing Industry Day" for a more important purpose. Since then, in addition to coming together, getting some fresh air and enjoying each other's company, the ACP uses the Outing to fundraise for deserving charities.