2012 LICENSE RENEWAL COURSE
SIGN – UP NOW!
The Construction Trades License Training Corporation's (CTLTC) last course in 2012 will be:
WEDNESDAY, SEPTEMBER 12, 2012
Anyone seeking to renew their license in 2012 or early 2013 should register for this course. Please use the CTLTC's website to sign up.
WWW.NYCONSTRUCTIONTRADES.ORG
REMINDER – Completion of this 7-hour course satisfies the requirement for both Licensed Master Plumbers and Fire Suppression Contractors seeking to renew their license(s) which, under the 2008 Administrative section of the Building Code, is a three year license period. Licensees are required to take the 7-hour course within 24 months prior to the expiration of the license.
2012 ACP GOLF OUTING HONORS THE JUVENILE DIABETES RESEARCH FOUNDATION
More than 230 members of the Association of Contracting Plumbers of the City of New York, Inc. (ACP) and their guests participated in its Annual Charity Outing, which was held on May 7, 2012 at the Old Westbury Golf and Country Club in Old Westbury, Long Island.
In 2004 the ACP decided to use its "Plumbing Industry Day" for a more important purpose. In addition to coming together, getting some fresh air and enjoying each other's company, the ACP chose to use the Outing as a fundraiser for a deserving charity. The ACP chose the Juvenile Diabetes Research Foundation (JDRF) as it's 2012 charity.
The ACP is happy to report that $102,250 was donated to the JDRF and that, in the nine years since it began the charity donation, over $517,700 has been raised for various charities.

JDRF (Juvenile Diabetes Research Foundation) is the leading global organization focused on type 1 diabetes (T1D) research. Driven by passionate, grassroots volunteers connected to children, adolescents, and adults with this disease, JDRF is now the largest charitable supporter of T1D by accelerating progress on the most promising opportunities for curing, better treating, and preventing T1D. JDRF collaborates with a wide spectrum of partners who share this goal.
Since its founding in 1970, JDRF has awarded more than $1.6 billion to diabetes research. Past JDRF efforts have helped to significantly advance the care of people with this disease, and have expanded the critical scientific understanding of T1D. JDRF will not rest until T1D is fully conquered. More than 80 percent of JDRF's expenditures directly support research and research-related education.
PLUMBING FOUNDATION PUBLIC EDUCATION
On April 17th Foundation Deputy Director Terence O'Brien and
honorary Member Ken Klein P.E. represented the Plumbing Foundation at the Cooperator's Construction Expo. The Expo was attended by approximately 10,000 co-op board members, superintendents, and building management staff personnel. There were hundreds of booths showcasing a variety of services, new technologies, and products. The Foundation attended the Expo to educate attendees about the Foundation's role as a watchdog group for the safety of the City but primarily to inform the public on the pitfalls of using unlicensed persons to perform plumbing work. Many building owner representatives were unaware that by using handymen/superintendants to perform plumbing and gas work they are violating the law, jeopardizing their buildings insurance polices, and most importantly, risking the safety of their buildings tenants.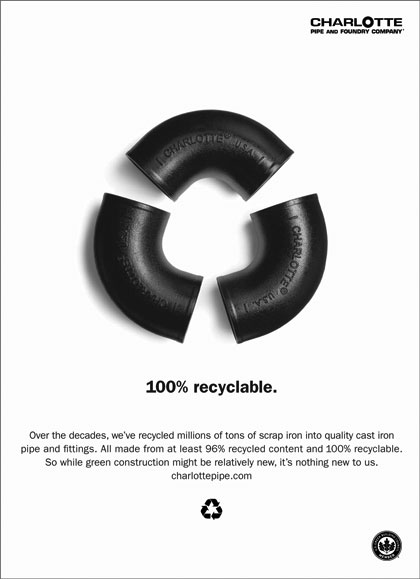 DOB LAA WORKSHOPS
Limited Alteration Application e-Filing Workshop
The Department is offering workshops to assist applicants with Limited Alteration Applications (LAA) and updated filing procedures. Registration is required, and there is no cost to attend.
To Register Email: LAA-PR@buildings.nyc.gov or fax (212 566-5823).
TOPICS
eFiling LAAs
LAA Post-Approval Reviews
New L2: Override/Reduction/Waiver Form
LOCATION, TIME + DATES
280 Broadway – Manhattan – 10 am – 1 pm
Thursday, June 14 – Third Floor Conference Room
Friday, June 22 – Sixth Floor Training Room
Wednesday, June 27 – Sixth Floor Training Room
NEW FOUNDATION PUBLIC EDUCATION CAMPAIGN
Below is 1 of the Foundation's 4 new educational advertisements which are being published in a variety of construction, real estate, and news reporting websites, blogs, and magazines over the next 6 months.
For all Plumbing Foundation advocacy avertisements please visit www.plumbingfoundation.org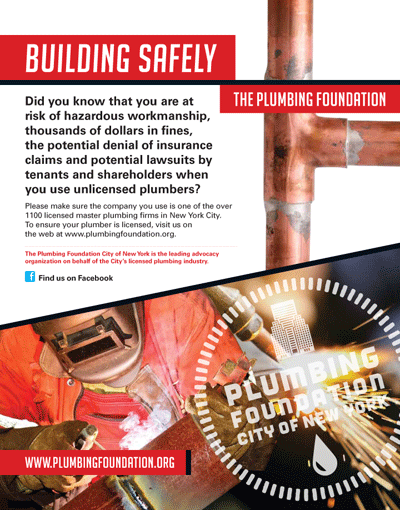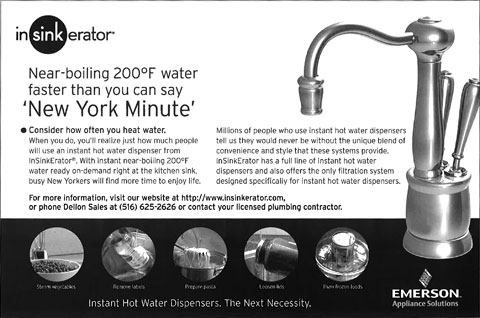 FOUNDATION'S ENVIRONMENTAL STATEMENT
Since its establishment in 1986 the Plumbing Foundation has worked diligently to ensure that the plumbing industry has as little a "carbon footprint" on New York City as possible.
The plumbing industry has historically utilized environmentally friendly materials like recycled cast-iron and copper piping/fittings. The Foundation will continue its role of protecting New York City as well as being an advocate for the environment by strengthening its water/sanitary regulations thereby lessening the City's wasteful water consumption.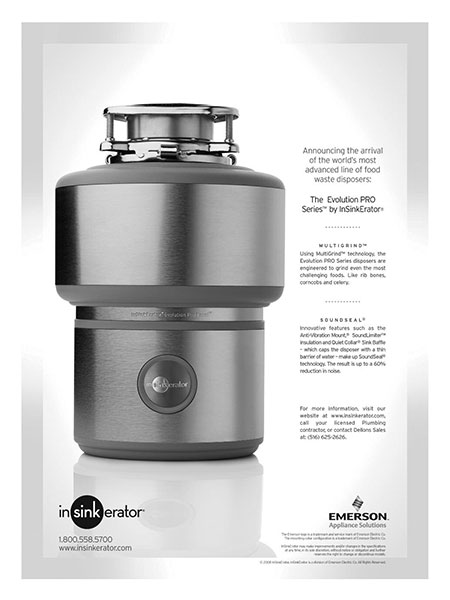 THE PIPECASTER is published by The Plumbing Foundation City of New York, 44 West 28th Street, 12th Floor. New York, New York; (212) 481-9740; Fax:(212) 481-7185. Lawrence J. Levine, Chairman; Thomas Maniuszko, Vice Chairman; Louis J. Buttermark, Treasurer; Stewart O'Brien, Executive Director; Terence O'Brien, Editor. Board of Directors: George Bassolino, Paul Belli, Irwin Brenner, Marc Breslaw, Raymond Cardoza, Lawrence J. Levine, Scott Lyons, Robert Ricco, John Scarpinito