2017 LEONARD X. FARBMAN SCHOLARSHIP AWARDS
The Plumbing Industry Promotion Fund of New York City held its annual scholarship awards ceremony on May 17th, 2017. The Promotion Fund provides funds to students who have demonstrated high academic achievement to help defray the cost of higher education over four years of college.
The Promotion Fund has been awarding scholarships for over 30 years, and to date, has proudly disbursed over $1,000,000 to more than 400 students. Scholarship winners may attend any accredited college, university or approved technical institution in the United States and may select any course of study.
The scholarship fund was created to aid the best and the brightest of the next generation in achieving their dream of a quality education at some of the best colleges and universities in the country. With higher education costs rising every year, easing the financial burden on outstanding students keeps the dream of a college education within sight for these families.
DOB ISSUING SUMMONSES
DOB ISSUING SUMMONSES FOR "NEGLIGENCE, INCOMPETENCE, LACK OF COMPETENCE AND/OR DISREGARD OF THE CODE."
In the previous issue of the Pipecaster, we brought to your attention the DOB action of issuing violations to licensed plumbers for "negligence, incompetence, lack of competence and/or disregard of the code."
On May 30th of this year, we sent a letter to DOB requesting clarification regarding standards for this type of enforcement. DOB sent its official response on July 26th. Below, you can read the Foundation's letter in its entirety:
Recently, DOB initiated a new enforcement effort by issuing summonses to licensed plumbers for "display[ing] negligence, incompetence, lack of knowledge and/or a disregard…" of NYC Construction Codes/Rules for denials of requests for inspection sign-offs. A finding of guilt on any violation for "negligence, incompetence or lack of knowledge…" could be used in any proceeding to suspend or revoke a person's license, which cannot be contested in any future proceeding. While we understand and support the intent to both better utilize DOB staff and to "clean up" the industry, these summonses are being issued in an arbitrary and capricious manner and are not an effective enforcement tool. We consider it such because of the following reasons:

DOB has established no standard for what triggers a summons (number of denials, number of denials as a percentage, number of requests, etc.). Also, there is no timeframe which a certain number of denials leads to the issuance of a violation. Apparently, even 1 denial can trigger a summons according to DOB Assistant Chief Katsihitis at an April 2017 hearing when questioned by a hearing officer. At that hearing, the licensee had 51 denials out of 243 requests within a 7-month period. That triggered a summons. Recently, DOB did, in fact, issue a summons for just 1 denial over a 6-week period.
These are not failed inspections but denials of inspection sign-offs. Denials can be for clerical mistakes, which do not constitute "negligence" (e.g. requesting an inspection on floor 5 instead of 6, not uploading a required item, etc.). Denials can also occur because of DOB errors. Since DOB has established the new inspection system, there have been numerous glitches and omissions which may be the cause of erroneous denials. At that April hearing, the licensee said that 49 of the 51 denials were, in fact, clerical (both contractor and DOB) and have since been signed-off by DOB.
The venue for these summonses appears to be adjudicated in the wrong setting as the OATH hearing officer concluded in that same April 2017 case mentioned above. Also, within the summons, there is no information regarding job numbers or even addresses, associated with these denials. How can a licensee possible defend or explain his/herself without being made aware of which jobs they are accused of making mistakes on?

There has never been a formal notice to the Industry establishing standards for this enforcement effect. How is the industry supposed to adhere to standards which have never been established by DOB? Certainly, we all make mistakes and simply 1 error should not jeopardize a person's livelihood. We request a meeting to discuss this matter or at least lay out clear guidelines, including the concerns listed above, in a proposed rule open for comments.
DOB never responded to the request for a meeting to discuss this further. DOB's official response was "…ECB is the venue for addressing these matters."
7-HOUR SUNY EMPIRE LICENSE RENEWAL
For those individuals seeking to renew their DOB issued Plumbing and/or Fire Suppression licenses, there will be a 7-hour SUNY Empire State/CTLTC license renewal course on:
Thursday, October 12, 2017
To register for any SUNY Empire State/CTLTC license renewal courses, please visit the below website:
REMINDER – As an NYC-certified training program, all participants who complete the 7-hour course will receive a certificate of completion. This course satisfies the requirements necessary to renew a certificate of competence or license for a licensed master plumber and for a licensed master fire suppression piping contractor. Pursuant to New York City Department of Buildings 2014 Administrative Code, Section 28-40.12 and NYC Rule section 19-02, this course must be taken within two years prior to licensee's renewal date.
2016 Annual Water Supply and Quality Report
The United States Environmental Protection Agency requires all drinking water suppliers to provide the public with an annual statement describing the sources and quality of its water supply. The NYC report was prepared in accordance with the New York State Sanitary Code and the National Primary Drinking Water Regulations. The 2016 Annual Water Supply and Quality Report is now available for viewing at:
www.nyc.gov/dep/2016waterquality
DOB NOTICE: PLUMBING UNIT RELOCATION
MANHATTAN PLUMBING UNIT RELOCATED OUT OF 280 BROADWAY
Per DOB Notice dated September 2017, Manhattan Plumbing Unit Relocated Out of 280 Broadway. The Notice states the following:
Effective Monday, September 11, 2017, the Plumbing, Electrical, and Construction Development Inspection Units will no longer be located at 280 Broadway. The new location address is the following:
NYC Department of Buildings
One Centre Street, 23rd Floor
Room 2342
New York, NY 10007
UNIT CONTACT INFORMATION WILL REMAIN THE SAME:
PLUMBING DEVELOPMENT INSPECTIONS ……………………….. (212) 393-2554
ELECTRICAL DEVELOPMENT INSPECTIONS …………………….. (212) 393-2556
CONSTRUCTION DEVELOPMENT INSPECTIONS ………………. (212) 393-2553
NOTE: TO REACH CONSTRUCTION ENFORCEMENT PLEASE CALL (212) 323-8079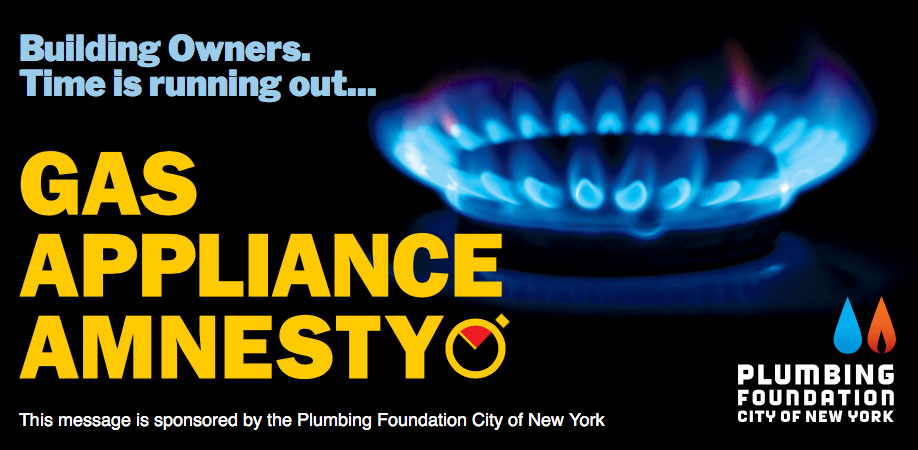 For information, please visit
gasamnesty.nyc
or contact DOB customer service at
(212) 393 – 2406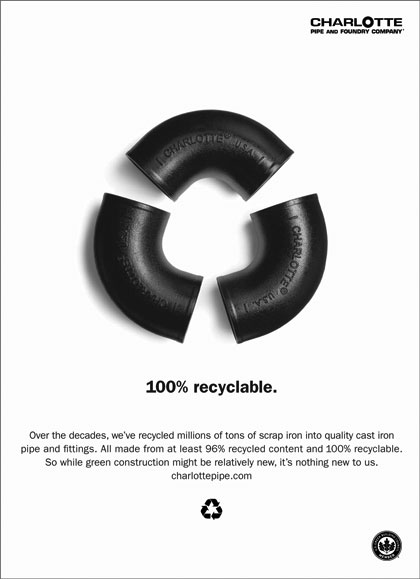 FOUNDATION'S ENVIRONMENTAL STATEMENT
Since its establishment in 1986 the Plumbing Foundation has worked diligently to ensure that the plumbing industry has as little a "carbon footprint" on New York City as possible. The plumbing industry has historically utilized environmentally friendly materials like recycled cast-iron and copper piping/fittings. The Foundation will continue its role of protecting New York City as well as being an advocate for the environment by strengthening its water/sanitary regulations thereby reducing the City's wasteful water consumption.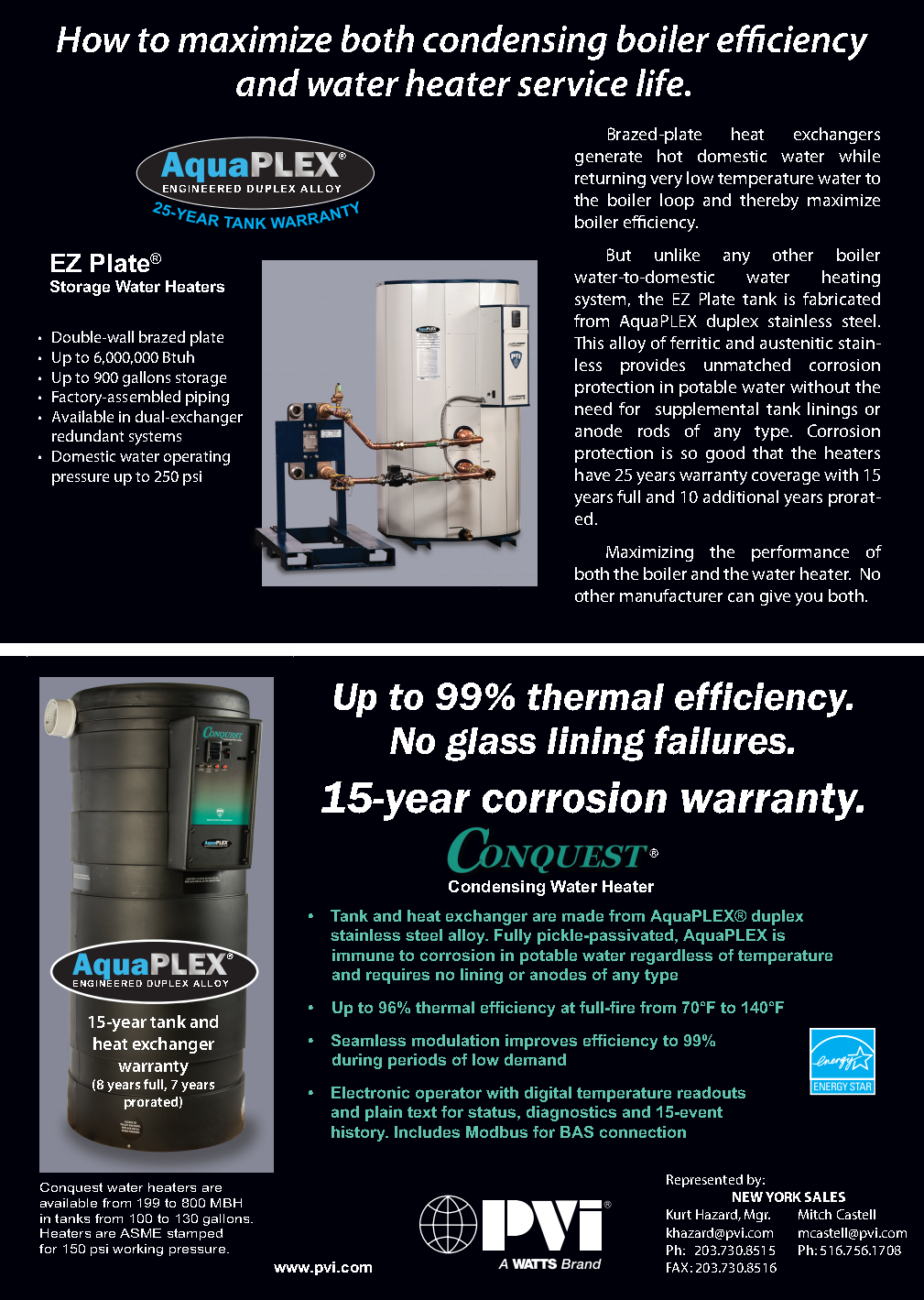 THE PIPECASTER is published by The Plumbing Foundation City of New York, 44 West 28th Street., 12th Floor. New York, New York; (212) 481-9740; Fax: (212) 481-7185. Lawrence J. Levine, Chairman; Thomas Maniuszko, Vice Chairman; Louis J. Buttermark, Treasurer; Stewart O'Brien, Executive Director; Terence O'Brien, Editor. Board of Directors: George Bassolino, Paul Belli, Marc Breslaw, Louis J. Buttermark, Harris Clark, Angelo Lemodetis, Lawrence J. Levine, Adam Levy, Thomas Maniuszko, Andrew Moran, Barr Rickman, Richard Turchiano Jr.