The Plumbing Foundation Guest At Local No. 1 Apprenticeship Graduation
The Plumbing Foundation City of New York's Executive Director, April McIver, and Executive Vice President of the Association of Contracting Plumbers of the City of New York (ACP), Terence O'Brien, were invited to the November 8, 2018 graduation ceremony honoring the U.A. Plumbers Local Union No. 1 Apprenticeship Program. The ceremony took place at Terrace on the Park in Queens, New York. This New York State Department of Labor (DOL) approved five-year apprenticeship program is jointly administered by ACP.
There were 92 graduates overall, each receiving a completion certificate as a Qualified Plumber from DOL. Additionally, 44 earned an Associate in Science degree from the State University of New York, and 15 earned a certificate in CAD Drafting from the New York University School of Professional Studies. All graduates are certified by the New York State Department of Health in Backflow Device testing and certified in Medical Gas installations. All carry Certificates of Fitness from the New York City Fire Department. Finally, all graduates have applied to be Registered Journeyman Plumbers and to receive their Fuel Gas work qualification from the New York City Department of Buildings.
The winner of the George Meany Academic Achievement award for the Spring class was Matthew J. Gatewood, and the winner for the Fall class was Dominick Bifolco. Ten graduates were recognized for perfect attendance over the five years of apprenticeship. We congratulate them and all the graduating apprentices.
Reminder: EWN Process In DOB Now
Although the process for submitting emergency work notifications (EWN) has changed, the New York City Department of Buildings (DOB) has reiterated that the practice of explaining what the EWN is for has not changed and that licensees must still indicate the need for the EWN, e.g. whether for heat, hot water, cooking, etc. In addition, if the licensee is no longer going to do the work, he/she MUST notify DOB of the cancellation or a violation may be issued. E-mail LAA-PR@buildings.nyc.gov.
Authorized Representatives for DOB Inspections
Effective immediately, the New York City Department of Buildings (DOB) will no longer accept authorized representative letters from licensed master plumbers for any inspections. As a reminder, when a licensee cannot be present for an inspection, either for a physical DOB inspection or self-certification, an authorized person from the licensed firm must be on site. The authorized person must be listed as the contact person within DOB NOW: Inspections. However, the suggestion is to also list 3-4 other people in the comment section, with their cell phone numbers, as a precaution in the event the authorized contact is unable to be on premises. If DOB arrives on a job for an inspection with no listed authorized representative on location, the inspection fails automatically.
Reminder: L2 Submissions and Supersedes
A reminder for the industry that the response time by the New York City Department of Buildings (DOB) for non-emergent L2 submissions is 5-10 days. If there is an emergency, an email to DOB must be sent explaining the basis for such emergency and DOB will then respond in 48 hours. The timeframe and conditions are the same for superseding letters. Email DLAAL2@buildings.nyc.gov.
DOB extends deadline for Local Law 196 site safety training requirements
In November 2018, the New York City Department of Buildings (DOB) issued a Service Update extending the date for compliance with several phases of the Site Safety Training Law, Local Law 196 of 2017. Local Law 196 requires certain workers and supervisors to receive safety training at construction sites that are required to designate a Construction Superintendent, Site Safety Coordinator, and/or Site Safety Manager. Now, workers will need a minimum of 30 hours of training and supervisors will need 62 hours of training by June 1, 2019 (previously December 1, 2018). In addition, workers will need an additional 10 hours of training by September 1, 2020. To access the service update, please visit the DOB website.
www1.nyc.gov/assets/buildings/pdf/local_law_196_sn.pdf
Questions and Feedback on New DOB Now Filing System for LAAS
This past October, the NYC Department of Buildings (DOB) required filings for Limited Alteration Applications (LAAs) and Emergency Work Notifications (EWNs) be done through the new DOB NOW system. The Plumbing Foundation disseminated several notices regarding the upcoming filing requirements and shared information on how to sign up for DOB's training sessions. Since October, the industry has raised a lot of questions, concerns, and has shared other feedback regarding the system's implementation. DOB has been responsive regarding the industry's feedback and has published a list of Frequently Asked Questions to further assist Licensed Plumbers in becoming familiarized with the new filing system. DOB has also explained it expects to issue updates/improvements to the system at least throughout next year. DOB has requested that questions, concerns, and feedback regarding the new system are submitted through the "Help" function on the DOB NOW: Build login page.
https://a810-efiling.nyc.gov/eRenewal/dobNowHelp.jsp
New Gas Laws in Effect January 1, 2019
The Plumbing Foundation wants to remind the industry of several gas laws coming into effect on January 1, 2019:
Operator Qualification for Covered Tasks 86/87
First, the Utility companies (Con Edison & National Grid), by virtue of the US Department of Transportation ("USDOT") and the New York State Public Service Commission ("PSC"), will be requiring licensed master plumbers ("LMPs") and LMPs' employees who perform plumbing work to be operator qualified in Covered Task 86 (Inspections) and/or Covered Task 87 (Maintenance/Repairs) to do such inspections and/ or maintenance on USDOT jurisdictional gas piping. Operator Qualification entails a 7-hour course and a written and practical examination. This will also require anyone doing such inspections and/or maintenance to take a baseline ("pre-employment") drug and alcohol test and to be part of a drug testing pool; per USDOT requirements, 50% of such pool will be drug tested at random per year. The Utilities will be making such requirements effective in their respective operating manuals by January 1, 2019.
To assist the industry in complying with the above requirements, the Plumbing Foundation released its application for Gas Operator Qualification ("GOQ") Membership in mid-June. GOQ Membership includes coordination of operator qualification training, cost and coordination of the baseline and random drug testing, and cost and coordination of operator qualification exams. If you have not already completed the necessary steps to become operator qualified, please visit our website for more background information, application instructions and documents, and a list of Frequently Asked Questions:
www.plumbingfoundation.nyc/gas-operator-qualification
Local Law 152: Periodic Inspections of Building Gas Piping
In addition, another law regarding inspections of gas piping in NYC buildings goes into effect January 1, 2019. Local Law 152 of 2016 requires periodic inspections of "building gas piping systems," which refers to all exposed gas piping from point of entry of the gas piping into the building, including building services meters, other than gas piping systems of buildings classified in occupancy group R-3 (2 families or less). According to the law, this does not include gas piping within apartments, but does include inspection of public spaces, hallways, corridors, and mechanical and boiler rooms.
These inspections, which must be completed by an NYC Licensed Master Plumber or an individual working under an NYC Licensed Master Plumber, fall within the jurisdiction of the New York City Department of Buildings ("DOB").
At the end of November, DOB issued proposed rules detailing what the qualifications are to conduct such inspections, as well as the breakdown of the inspection cycle. DOB is accepting comments until the Hearing date of January 2, 2019 (Note: the day after the law goes into effect). Therefore, inspections will not be acceptable to DOB until the rules governing them are established. The industry has already been working together to address its concerns with the draft rules and will be submitting its revisions to DOB to ensure continuity with Operator Qualification in Covered Task 86, as well as to institute a more practical inspection cycle breakdown.
The Plumbing Foundation, working with industry stakeholders, will apprise the industry on its efforts to revise the proposed rules for Local Law 152.
Local Law 150: DOB Gas Qualification
Finally, while Local Law 150 of 2016, which requires licensed plumbers and their technicians who conduct gas work on building gas piping to hold a DOB-issued gas qualification, does not come into full effect until January 1, 2020, DOB has begun issuing notices regarding the law. First, the law has a cut-off date for DOB-registered journeyman; as of January 1, 2019 if someone is not a fully registered journeyman with DOB (meaning completed all steps and has his/her card) then he/she will have to take additional training to hold a DOB-gas qualification. Those fully registered by December 31, 2018 would only need to follow the steps in DOB NOW: Licensing to request a gas qualification card. Otherwise, DOB will be issuing more information on how and where plumbing technicians, including journeymen registered after December 31, 2018, can take the necessary training to become gas-qualified with DOB. As a reminder, licensed plumbers are exempt from any additional training requirements for purposes of Local Law 150. The Plumbing Foundation will be keeping the industry updated as DOB issues additional notices on Local Law 150.
Anti-Sexual Harassment Laws and Applicable Effective Dates
In 2018, several laws and regulations on both the State and City levels were adopted to combat sexual harassment and gender-based discrimination in the workplace. Given that several effective dates have been pushed back, the Plumbing Foundation wanted to share the below timeline of effective dates for employers to comply with the State and City laws.
Effective April 1, 2019 – NYC LAW IN EFFECT
Employers with 15 or more employees must conduct annual anti-sexual harassment training for its employees. Training may be live or by interactive video.
Effective October 9, 2019 – NYS LAW IN EFFECT
All employers, regardless of size, must conduct anti-sexual harassment training for its employees. Training may be live or online. This training must be done on an annual basis.
Check the NYS Official Website and NYC Commission on Human Rights websites for more information regarding your obligations under the laws as well as for helpful resources.
THE PLUMBING FOUNDATION'S ENVIRONMENTAL STATEMENT
Since its establishment in 1986, the Plumbing Foundation has worked diligently to ensure the plumbing industry has as little a "carbon footprint" on New York City as possible. The plumbing industry has historically utilized environmentally friendly materials such as recycled cast-iron and copper piping/fittings. The Foundation will continue in its role of protecting New York City as well as being an advocate for the environment by strengthening its water/sanitary regulations and thereby reducing wasteful water consumption in the City.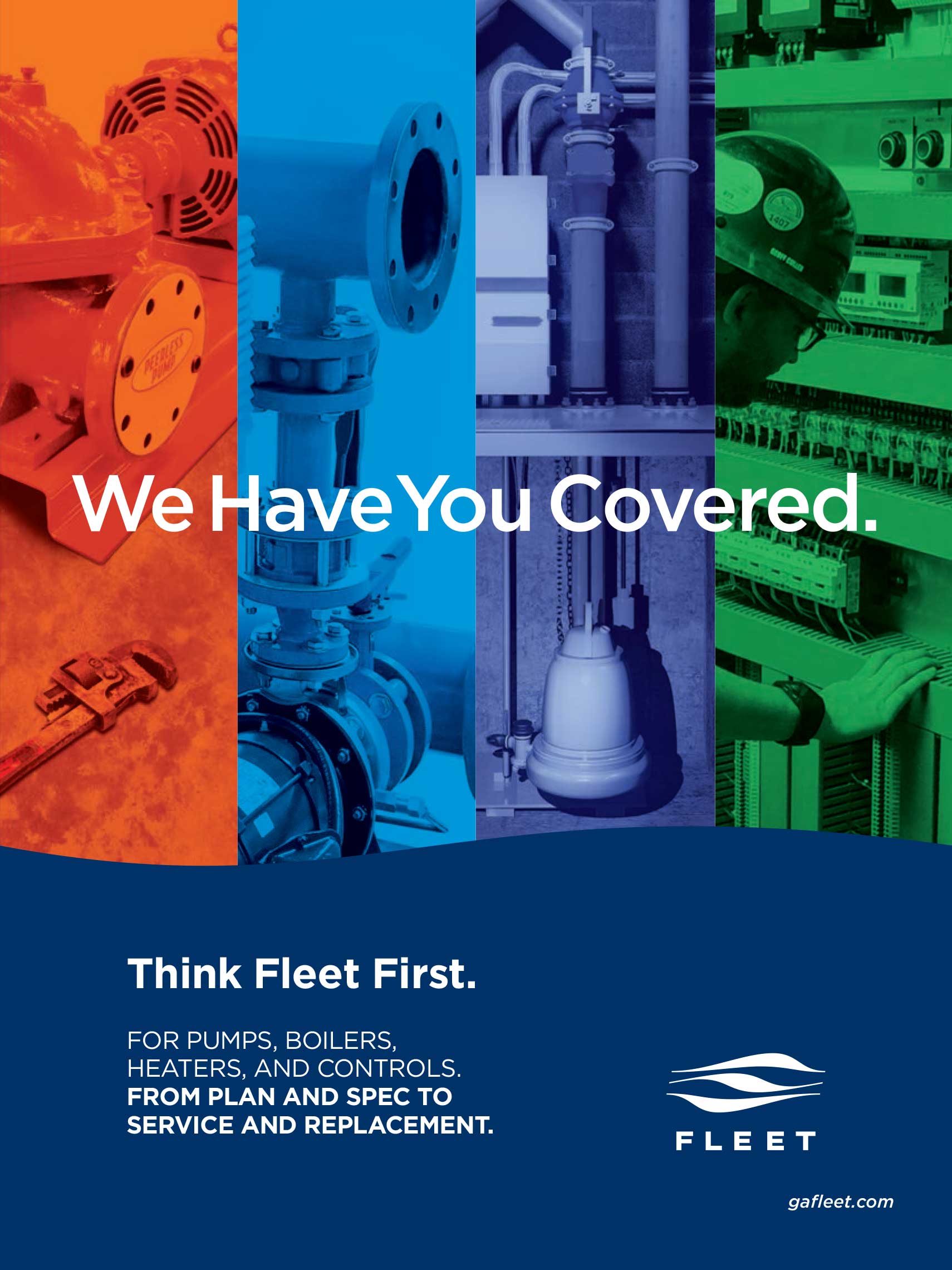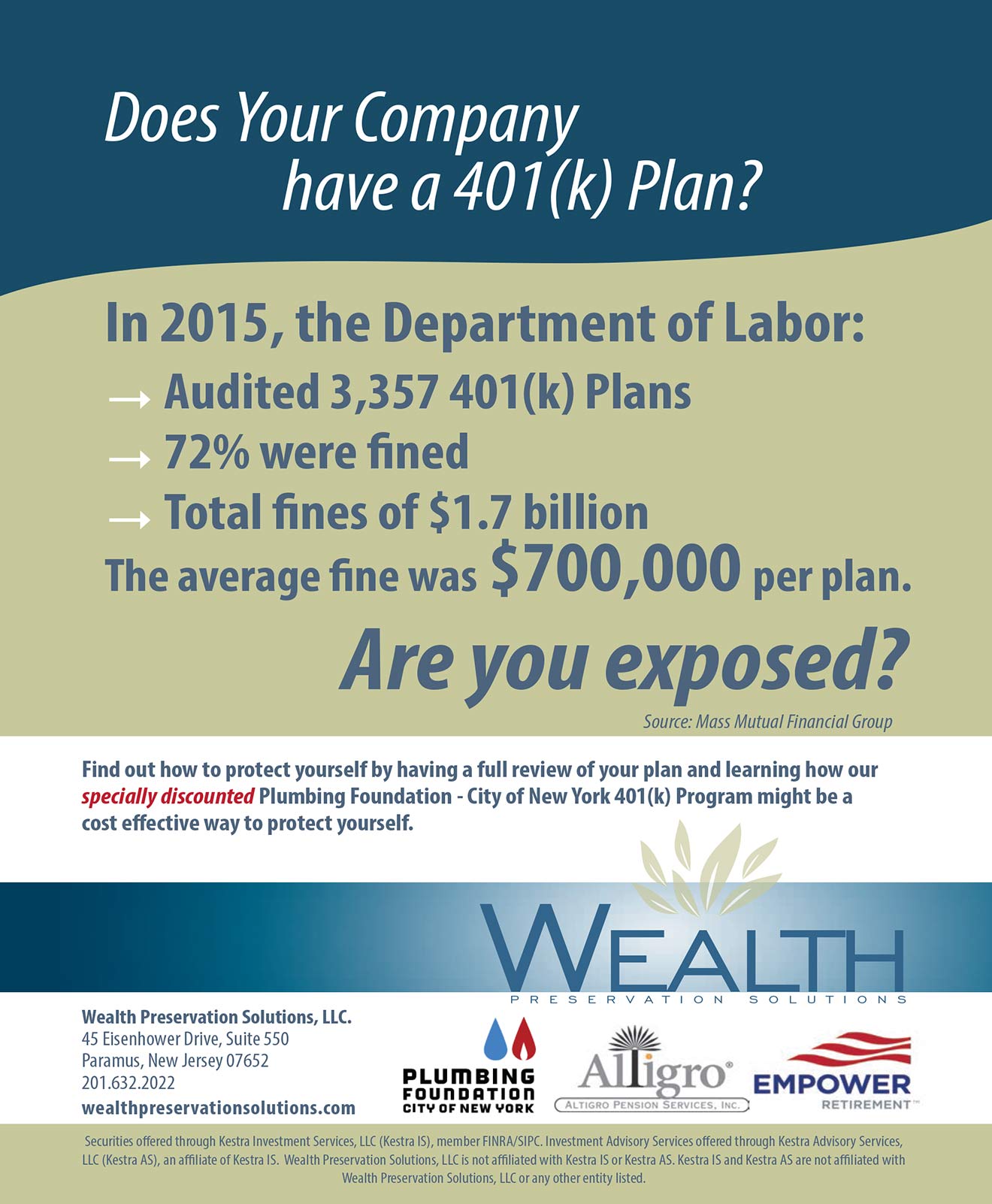 THE PIPECASTER is published by the Plumbing Foundation City of New York, Inc.
535 Eighth Avenue, Floor 17, New York, NY 10018
(P) (212) 481-9740 | (F) (212) 481-7185 | (E) info@plumbingfoundation.nyc
Lawrence J. Levine, Chairman; Thomas Maniuszko, Vice Chairman; Louis J. Buttermark, Treasurer; April McIver, Executive Director; Terence O'Brien, Editor. Board of Directors: George Bassolino, Paul Belli, Marc Breslaw, Louis J. Buttermark, Harris Clark, Angelo Lemodetis, Lawrence J. Levine, Adam Levy, Thomas Maniusko, Andrew Moran, Barr Rickman, Richard Turchiano