NYC Council to Extend Local Law 152/2016 Compliance Deadline
The NYC Council introduced No. 2151-A to extend the compliance date for Local Law 152 gas piping system inspections for buildings in Community Boards 1, 3, and 10 in all boroughs from December 31, 2020 to June 30, 2021. The Housing & Buildings Committee held a hearing on December 2, 2020. According to the bill sponsor, Council Member Daniel Dromm, building owners in his district stated they are experiencing hardships with complying with the upcoming deadline. The Plumbing Foundation testified at the December 2nd Hearing urging the City Council to impose practical restrictions on the extension and to amend the Local Law to address several flaws, including redefining tenant space to mean only residential tenant space is excluded, requiring the leak survey report to be submitted to DOB, and aligning the inspections with the utility inspection schedule. We will update the industry on any revisions to the bill and if/when it is adopted by the Council.
Master Plumber & Master Fire Suppression Contractor License Renewal
Please be advised that the Construction Trades License Training Corporation will be holding virtual license renewal courses in the first quarter of 2021, dates to be determined. Please check our website for registration information:
Please also be advised that the license renewal process is through DOB NOW and you must submit your license renewal application 60 days prior to your renewal date (no earlier/no later) to ensure you renew your license on time. There is a 15-day turnaround for approval / rejection and if you have to correct your application, you must resubmit the entire application and another 15-day waiting period will begin. The NYC Department of Buildings (DOB) and the Plumbing Foundation strongly urge licensees to carefully review your application prior to submission to avoid having to correct any portion(s), extending the time until your license will be renewed. Please use the Department's checklist to ensure all documentation is attached to your application. DOB is seeing a lot of issues with licensee business information that has changed since the last renewal period. If any of your business information has changed, you must take this into consideration when renewing and ensure you have the proper documentation (e.g. minutes) to submit to DOB. If you have further questions, please reach out to us at info@plumbingfoundation.nyc.
NYC DOB Seeks to Allow Unlicensed Entities to Conduct Appliance Hookups
The NYC Department of Buildings (DOB) has proposed to revise the Plumbing Code to remove the requirement that a Licensed Master Plumber has to conduct gas appliance hookups. Please see below the joint Association of Contracting Plumbers (ACP) and Plumbing Foundation letter submitted in response to such proposal.
See Following Letter:
October 20, 2020
Constadino (Gus) Sirakis, PE
First Deputy Commissioner
NYC Department of Buildings
280 Broadway, 7th Floor
New York, NY 10007
Dear First Deputy Commissioner Sirakis:
We issue this joint letter on behalf of the Plumbing Foundation City of New York, Inc. (a trade association representing NYC Licensed Master Plumbers, engineers, manufacturers, and supply houses whose mission is to ensure the enactment and enforcement of safe plumbing codes) and the Association of Contracting Plumbers of the City of New York (ACP), the bargaining party to Plumbers Local 1. We work with our members, industry stakeholders, and policy makers to ensure NYC adopts and enforces safe plumbing codes and rules in the interest of the public health. One of the most important topics to our industry is gas safety. The Plumbing Foundation works to combat unlicensed plumbing work as the industry is well aware of the deadly consequences from such work, especially gas work. As per the NYC Building Code, building owners must hire licensed, qualified plumbers to conduct any gas work, whether it is an inspection, repair, or replacement of a full gas system.
We actively engage with state and city decision makers, utility companies, and other associations on the topic of gas safety since, as you are aware, NYC experienced catastrophic-and deadly-gas explosions in 2014 and 2015. In response, the NYC Council passed a package of gas safety bills in 2016 to tighten up the Code requirements surrounding gas work and inspections. As such, it seems counterintuitive and illogical that the NYC Department of Buildings (DOB) proposes a new section 28 105.4.7 regarding the replacement of existing appliance and flexible gas tubing which allows unlicensed entities to perform gas work. It is for the reasons detailed below, which are not exhaustive, that our organizations are adamantly opposed to the Department's proposal and will do everything within our power to prevent this degradation of the plumbing license and potential safety issue from occurring.
Experience and Training is a Public Policy and Safety Matter
It is counterintuitive that DOB would propose allowing unlicensed, untrained entities to hook up appliances since the current laws and regulations act ually require enhanced training and experience for licensed plumbers and their technicians working directly under them. This is true on several levels. First, the NYS Public Service Commission passed new changes to Title 16 of the New York Code of Rules and Regulations ("NYCRR") Part 255 that require licensed master plumbers and their technicians conducting gas work and inspections on jurisdictional gas piping to be operator qualified in related covered tasks, which entails a 7-hour training, written and practical exam, and random drug and alcohol testing. The 7-hour training has often been referred to as enhanced safety training for already experienced plumbers and covers what must be identified as abnormal operating conditions during gas inspections, including corrosion, deterioration, illegal hookups, etc. Similarly, Local Laws 150 and 152 of 2016 require additional training and examinations of plumbing technicians to conduct gas work and inspections on building gas piping. The same 7-hour training applies to Local Law 152 periodic gas inspection qualification requirements, which is in addition to the 5-year experience requirement as set forth in rule by the Department.
Therefore, it makes no logical sense why the Department would expect or allow an unlicensed, untrained entity or person to identify "corrosion or deterioration" as proposed in section 28-105.4.7.2. Only licensed, trained, and experienced individuals can make such a determination, the enforcement of which the Department plays a major role in. To suggest as a "fail safe" for unlicensed entities and persons installing gas appliances is that they cannot do so unless the condition of the gas cock and valve-which otherwise would be determined by LICENSED and TRAINED individuals—is "good," is not a fail safe at all. It severely undermines the current training and qualification requirements set forth in the 2016 laws and ensuing rules, and is completely in contradiction to the public policy of improving gas safety.
DOB and Utility Oversight is Crucial
In addition, DOB's proposal undermines the oversight functions of both the Department and the utility companies. This proposal would allow unlicensed entities to perform such appliance installations. Ultimately, this provides a green light for unregistered, untrackable entities and persons to engage in gas work and have no tangible accountability (i.e. a license and permit) for if and when the worst occurs—a gas leak and/or explosion. When a licensed plumber engages in gas work under a permit, he/she essentially puts his license—his/her livelihood-on the line. There is no perceived equitable standard set forth in the DOB's proposal, which severely undermines the DOB and utility companies' authorities to enforce the very crucial existing gas safety laws.
Safety Outweighs other Public Policies
Finally, DOB has claimed the current COVID-19 pandemic as a reason to introduce and expedite this proposal. Specifically, DOB states "[i]n light of the cur rent situation we are all faced with surrounding COVID-19, the Department has been asked to review current practices to see how we can safely improve our processes for the public" (emphasis added). While that is a commendable practice in theory, undermining gas safety laws is directly in contradiction to "safely improv[ing]" DOB's processes. If DOB wishes to create new policies to ensure efficiency for the public and/or in the interest of adapting to new environments, whether that is due to a pandemic like COVID-19 or even based on technological advances, it needs to balance public safety concerns with whatever the proposal may be—and with the current perceived "necessity" of DOB's proposal (i.e. COVID-19 pandemic), safety concerns most certainly outweigh the process changes as set forth in the proposal. As an aside, we are not going to address the additional practical and procedural problems, which there are many within this draft, since we fundamentally disagree with the concept.
We appreciate the opportunity to comment on the DOB's proposal but caution the Department that this proposal can and will only lead to gas safety disasters. Only licensed, trained persons should be authorized to conduct gas work, regardless of the perceived "simplicity" of a gas appliance connection or claim that a global health matter requires an overhaul of government processes.
Please do not hesitate to contact us for any reason.
Sincerely,
April McIver, Esq.
Executive Director
The Plumbing Foundation
212-481-9740
a.mciver@plumbingfoundation.nyc
Terence O'Brien
Executive Vice President
ACP
212-481-4580
t.obrien@acpcny.org
Plumbing Foundation Virtual Seminar Series Will Detail New Gas Inspection Laws:
Everything Plumbers, Engineers, and Landlords Need to Know
Local Law 152 and Other Important Gas Regulations
A series of local laws that establish new regulatory oversight and mandatory inspections for natural gas systems across NYC, including Local Law 152 (2016), took effect in 2020. The Plumbing Foundation City of New York will host a seminar series in February that will cover everything LMPs, professional engineers, and buildings owners/managers need to know about the new gas system requirements.
Plumbing Foundation Executive Director April McIver, explains: "These new laws include very specific responsibilities for plumbers, engineers, and landlords that go well beyond previous requirements. The Plumbing Foundation's aim is to be a onestop resource when it comes to providing clear and accurate information pertaining to the new gas system inspection laws."
Seminar Series for Licensed Master Plumbers, Professional Engineers, Building Owners and Managers Covering New
Mandatory Gas Inspections for Buildings Citywide. Topics include:
Obligations under the new laws
Regulatory enforcement by the NYS Department of Public Service & NYC Dept. of Buildings
Understanding risks of noncompliance
Detailed information on staggered mandatory inspection due dates as determined by community board number across all five boroughs
Roles and responsibilities of public utilities
Responsibilities of Licensed Master Plumbers and Professional Engineers – knowing when each are required. NOTE: All physical work and all compliance inspections related to natural gas piping systems in NYC must be performed by, or under the direct supervision of, a licensed master plumber
EVENT DETAILS AND REGISTRATION: More Information to Follow – Please visit our website!
Licensed Master Plumbers – Thursday, February 11, 2021 at 11:30 A.M.
Professional Engineers – Wednesday, February 17, 2021 at 11 A.M.
Building Owners and Managers – Thursday, February 18, 2021 at 11 A.M.
Gas Laws Covered:
LL 150 – Establishes the qualifications required for individuals performing gas work
LL 151 – Requires that the final inspection for gas piping must be performed by the NYC DOB
LL 152 – Requires periodic inspection of existing gas piping systems in all buildings except for occupancy group R3 (mostly one and two family dwellings)
LL 153 – Requires the notification and posting of instructions related to what procedures residential tenants must follow in the event of a gas emergency
LL 154 – Requires that both the utility company and the property owner must notify the DOB within 24 hours of having the gas service shut off for a building due to a hazardous condition
LL 157 – Addresses the mandatory installation of carbon monoxide, smoke and natural gas alarms for residential occupancies
LL 159 – Designates violations for gas piping systems as immediately hazardous
Federal/State Operator Qualification Requirements (Covered Tasks 86/87)
NYC Licensed Plumbing Community Survey: How do you think the ConEdison Yellow Book can be improved?
Please complete the survey!
https://forms.gle/nUeMYaMtibjrh2cQ9
! IMPORTANT NOTICE !
Gas Operator Qualification Members – 2021 Begins OQ (CT 86/87) Renewals
If you received your Gas Operator Qualification in Covered Tasks 86 and 87 in 2018, your OQ credentials will expire in 2021. You must retake the written and practical exams to renew your OQ card and to continue conducting work covered by CT 86/87!
PLEASE BE ON THE LOOKOUT FOR A DETAILED EMAIL ON THE PROCESS AND REQUIREMENTS TO RENEW!
THE PLUMBING FOUNDATION'S ENVIRONMENTAL STATEMENT
Since its establishment in 1986, the Plumbing Foundation has worked diligently to ensure the plumbing industry has as little a "carbon footprint" on New York City as possible. The plumbing industry has historically utilized environmentally friendly materials such as recycled cast-iron and copper piping/fittings. The Foundation will continue in its role of protecting New York City as well as being an advocate for the environment by strengthening its water/sanitary regulations and thereby reducing wasteful water consumption in the City.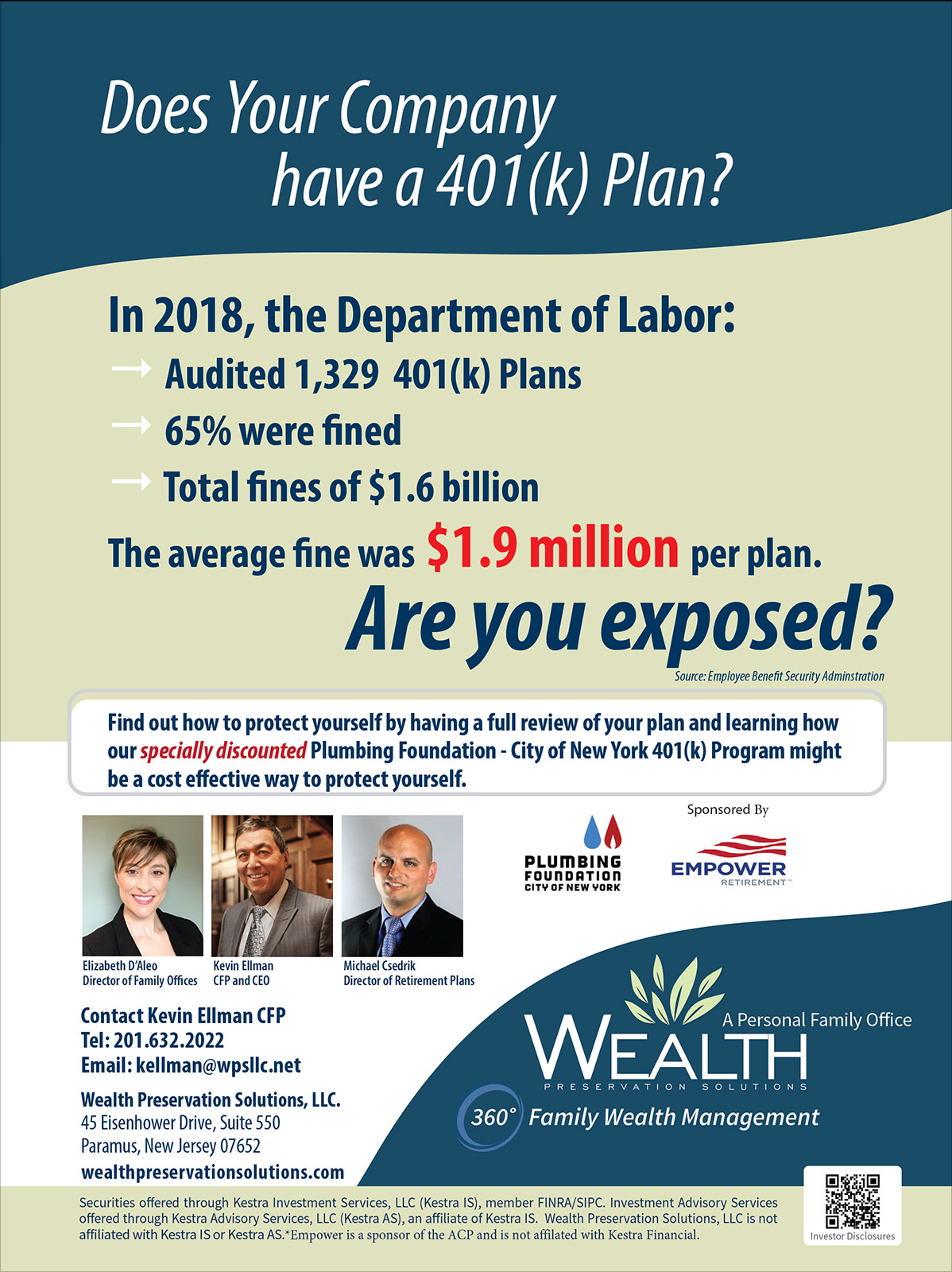 THE PIPECASTER is published by the Plumbing Foundation City of New York, Inc.
535 Eighth Ave., Fl. 17, New York, NY 10018 | Phone (212) 481-9740 | Fax (212) 481-7185 | (E) info@plumbingfoundation.nyc
Lawrence J. Levine, Chairman; Louis J. Buttermark, Vice Chairman; Barr Rickman, Treasurer; April McIver, Executive Director; Terence O'Brien, Editor. Board of Directors: George Bassolino, Paul Belli, Marc Breslaw, Louis J. Buttermark, Harris Clark, Angelo Lemodetis, Lawrence J. Levine, Adam Levy, Scott Lyons, Andrew Moran, Barr Rickman, Richard Turchiano