DOB INSPECTION HUB
Department of Building's Commissioner Robert LiMandri invited two dozen members of the construction industry to a presentation on the Department's "Development Hub" on September 14, 2012. The Foundation's Executive Director Stewart O'Brien was one of those invitees and attended this extremely informative seminar. A brief summary of the presentation is listed below. To view the entire presentation please go to:
http://www.nyc.gov/html/dob/downloads/pdf/cmr_forum_091412.pdf
Commissioner LiMandri and DOB's Executive staff provided an overview of Recent Inspection Initiatives.
Highlights
1. 35 new inspectors hired and in the field (9 Plumbing).
2. Inspectors are now separated by function. Complaints and enforcement are handled by one set of inspectors. Inspections related to filed work are handled by different inspectors. These inspectors are called "Development" inspectors.
3. Maximum time between a request for an inspection and the inspection itself is 10 days. Plumbing has the fastest inspection turnaround time (v. Electrical, construction).
4. The time between the inspection and when the results are entered into the computer-5 days for construction and electrical. Only 1 day for plumbing as the inspection information is automatically downloaded from the inspectors hand held device from the PIPES system implemented a number of years ago.
5. Renewal plumbing permits as well as most LAAs can be obtained over the internet. In one month, initial Alteration 2 plumbing permits can be obtained over the internet if the architect/engineer files under the "Pro-Cert" Program.
6. The Hi-Rise Program is being folded into HUB program (i.e. jobs with plans filed by architects/engineers under the HUB program will have inspections performed by HUB inspectors.
The financial investment by the Bloomberg Administration over the past 10 years has allowed DOB to increase staff and develop new technological advances providing better and faster interaction between the licensed plumbing community and DOB. Commissioner LiMandri and his staff have used that investment to decrease inspection time and the reduce the number of times licensees have to personally visit DOB. Real Progress!!
HIGH RISE MODULAR CONSTRUCTION IN NEW YORK CITY
Recently there have been numerous inquiries about the legality and productivity of high rise modular construction in New York City. The jury is still out on whether high rise modular construction is safe, cost effective and/or efficient in New York City, with its 100 degree swing in temperatures during the year, among other issues. What is clear, though, is that the NYC Building Code requires that all fire suppression and plumbing work be performed by employees of licensed plumbing firms and fire suppression contractor firms. (see Sections 28-408.1 and the definition of "Direct and Continuing Supervision" and "Direct Employ" in 28-401.3).
The Foundation is working with the other licensed mechanical trades to ensure that this "direct employ" safety provision in the code is not unlawfully circumvented.
NEWS FROM DOB ON STOP WORK ORDERS
Plumbing + Electrical: Lifting Stop Work Orders
Requests to rescind or lift an Electrical or Plumbing Stop Work Order (SWO)
must be emailed to the Department. Send these requests to
ElectricalSWO@buildings.nyc.gov or PlumbingSWO@buildings.nyc.gov.
Requesting a SWO Rescission
The project owner's representative must:
1. File an Electrical ED16A, Plumbing PW-2 or LAA1 for a permit to correct the illegal conditions cited in the Environmental Control Board (ECB) violation. Indicate that the application is to remove a violation – and include the ECB Notice of Violation (NOV) number on the application.
2. Request a rescission by email and include the following information:
– Your name, address, phone number and affiliation with the property;
– The property address, Building Information Number (BIN) and block and lot numbers;
– The (NOV) number; and
– The job or permit number for the application to correct the illegal conditions.
Request Processing + Decisions
These requests will be processed within five business days. If all requirements are met, the SWO will be rescinded. A re-inspection may be required, and the request will be subject to a Department field audit. Use the Buildings Information System to learn if a SWO has been rescinded: If so, there will be no SWO banner on the property profile. If the request is denied, DOB will contact the applicant by phone, email or mail.
SWO Penalties
When a SWO is issued for unpermitted work, a mandatory civil penalty is assessed, in addition to the violation penalties for non-compliant work. (Civil penalties for Electrical SWOs are automatically assessed with the filing fee; civil penalties for Plumbing SWOs are assessed by the plan examiner or LAA Unit.) These must be paid in the Department's borough offices.
NEW FOUNDATION PUBLIC EDUCATION CAMPAIGN
Below is one of the Foundation's four new educational advertisements which are being published in a variety of construction, real estate, and news reporting websites, blogs, and magazines over the next 6 months. For all Plumbing Foundation advocacy advertisements please visit: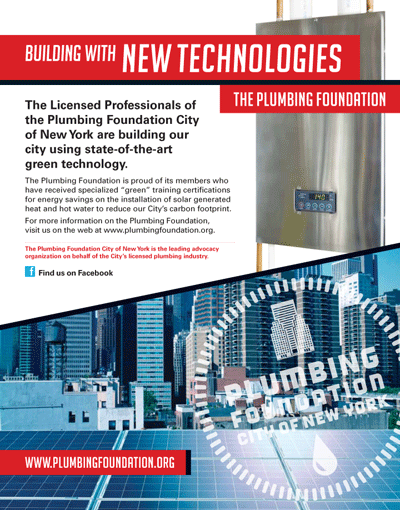 FOUNDATION'S ENVIRONMENTAL STATEMENT
Since its establishment in 1986 the Plumbing Foundation has worked diligently to ensure that the plumbing industry has as little a "carbon footprint" on New York City as possible. The plumbing industry has historically utilized environmentally friendly materials like recycled cast-iron and copper piping/fittings. The Foundation will continue its role of protecting New York City as well as being an advocate for the environment by strengthening its water/sanitary regulations thereby lessening the City's wasteful water consumption.
THE PIPECASTER is published by The Plumbing Foundation City of New York, 44 West 28th Street., 12th Floor. New York, New York; (212) 481-9740; Fax: (212) 481-7185. Lawrence J. Levine, Chairman; Thomas Maniuszko, Vice Chairman; Louis J. Buttermark, Treasurer; Stewart O'Brien, Executive Director; Terence O'Brien, Editor. Board of Directors: George Bassolino, Paul Belli, Irwin Brenner, Marc Breslaw, Raymond Cardoza, Lawrence J. Levine, Scott Lyons, Robert Ricco, John Scarpinito