LICENSE RENEWAL COURSE
The Construction Trades License Training Corporation's (CTLTC) first course for the new year will be:
THURSDAY, APRIL 11, 2013
We urge anyone seeking to renew their License to please use the CTLTC's website to sign up.
REMINDER- Completion of this 7-hour course satisfies the requirement for both Licensed Master Plumbers and Fire Suppression Contractors seeking to renew their license(s) which, under the 2008 Administrative section of the Building Code, is a three year license period. Licensees are required to take the 7-hour course within 24 months prior to the expiration of the license.
IN MEMORIAM OF LEONARD X. FARBMAN
It is with the deepest sorrow that we mourn the passing of LEONARD X. FARBMAN (M. Farbman & Sons Inc.). Leonard passed away Saturday, January 26, 2013 at the age of 102.
Leonard X. Farbman served New York's plumbing industry for many decades. Leonard was President of the Association of Contracting Plumbers of the City of New York, Inc. in 1962, 1963, 1964 and served for many years as an Association Officer, Executive Board member, Committee Chairman (legislative & City Department Committee), Committee member (Negotiation, Publicity), a Plumbing Industry Promotion Fund Trustee, Association Representative to the Joint Plumbing Industry Board, Local #2 (Apprentice Training, Educational, Legislative, Pension, Unemployment, Vacation and Welfare Committees), a Representative of the Plumbing Industry Affairs Corporation and Vice Chairman of the Plumbing Foundation City of New York, Inc. He also served the plumbing industry in many other posts including the New York City Master Plumbers License Board and was also active in the New York State PHCC and National PHCC Associations. Recognizing his many years of service to the plumbing industry, in 2007 the Plumbing Industry Promotion Fund Scholarship Program was renamed the "Leonard X. Farbman" Scholarship in his honor. Since its establishment, the Scholarship Program has awarded some $1,170,000 in scholarships to 445 students.
We join with the entire NYC plumbing community in expressing our deepest sympathy to the Farbman family.
NEW YORK CITY PUBLIC ADVOCATE BILL DE BLASIO MEETS WITH THE FOUNDATION
The Foundation routinely has guest speakers at its Board of Directors' meetings. During the latest meeting the Board, and distinguished industry stakeholders, were honored to have New York City Public Advocate Bill de Blasio. The Board appreciated his appearance which gave the plumbing industry the opportunity to talk about a variety of topics from enforcement against unlicensed plumbers and cover-up plumbers, how the plumbing industry can assist in making the City more "Green", Building Code issues, etc.
The Foundation would like to thank New York City Public Advocate Bill de Blasio for meeting with the Foundation. As the plumbing industry's clearinghouse, City officials regularly request our advice because they realize that licensed plumbers are on the front-line protecting the health and safety of all New Yorkers. Licensed plumbers are responsible for more than leaky pipes. Just to list a few additional obligations of a NYC Master Plumber: they maintain and install medical gas lines in hospitals, install and repair gas lines and install backflow devices which prevent contamination of the water supply.
Public Advocate de Blasio is a candidate for Mayor in 2013. The Foundation plans to have many of the potential mayoral candidates as well as City Elected Officias attend Foundation meetings.
REVISED PLUMBING CODE
With the passage of the revised New York City plumbing code on August 8, 2012 (which will not take effect until the entire revised Building Code is adopted sometime late in 2013 and therefore cannot be used until that date) we thought it would be useful to highlight the changes to the 2008 NYC plumbing Code. Over the next few issues of the Pipecaster we will list all the changes/additions we perceived impacted the plumbing code.
This Plumbing code update summary is comprised of both additions and deletions to the previous code. Either of these could be in the form of very minor corrections to entire sections being added or deleted. This document contains examples of wording being removed by placing the wording in brackets"[ ]"and examples of new wording being underlined. This summary is also intended to illustrate most of the more substantive changes while leaving out the many very minor ones. As licensed master plumbers it is recommended that you do read the entire revised code to see the totality of all the changes but remember the revised Plumbing Code. although passed, will not take effect until later this year.
Section 106.6 of the New York City plumbing code is amended. This is a 4 plus page amendment that covers public sanitary, storm and combined sewer systems from feasibility, to the permit application, to connections, DEP certifications and exceptions to certain requirements. On site disposal of storm water and sewage is also discussed.
Section 201.3 of the code has been amended. This is the section on terms and definitions and it spans approximately 7 pages. New terms have been added and defined while others have been modified. Several examples are:
BACKFLOW – The undesirable reversal of flow of water or mixtures of water and other liquids, gases or other substances into the distribution pipes of the potable supply of water from any source or sources or the undesirable reversal of flow from the intended direction of flow in the drainage system due to a system stoppage, system overload or a higher pressure on the drainage pipe side of the house trap.
BACKWATER VALVE – A device or valve installed in the building drain, sewer or any branch line where such drain or branch is subject to backflow, which prevents drainage or waste from backing up into a lower level or fixtures and causing a flooding condition.
Others new or modified definitions are: BRANCH INTERVAL, BUILDING SEWER, CLEAR WATER WASTE, COMBINED [BUILDING] SEWER, DETENTION SYSTEM, DRAINAGE FIXTURE UNIT, DRAINAGE SYSTEM, DRYWELL, FLOOR DRAIN, GREASE INTERCEPTOR, GREASE REMOVAL DEVICE – GRD, GROUNDWATER OR GROUND WATER, HAND SINK, LOW-PRESSURE STEAM-HEATING BOILER, PERMEABILITY, PNEUMATIC SEWAGE EJECTOR VENT, POTABLE WATER, PRIVATE SEWER, PUBLIC SEWER, REDUCED PRESSURE PRINCIPLE BACKFLOW PREVENTER – RPZ, RETENTION SYSTEM, SANITARY SEWER, SEWAGE, SEWER, STORM SEWER, STORM WATER OR STORMWATER, and SUMP VENT.
301.7- [Where conflicts between this code and the conditions of the listing or the manufacturer's installation instructions occur, the provisions of this code apply] In instances where conflicts occur between this code and the manufacturer's installation instructions, the more restrictive provisions shall apply. Section 310.5 of the New York City plumbing code is added to cover Urinal partitions. Other requirements such as when partitions are used, dimensions and certain exceptions are covered.
312.1.2- Tests in accordance with this code shall be witnessed by department plumbing inspectors or approved agencies. The department shall prescribe qualifications for individuals who are authorized to witness such tests on behalf of approved agencies, including but not limited to the requirement that such individuals shall be licensed master plumbers or registered design professionals with not less than 5 years experience in the inspection and testing of piping systems. Such tests may be conducted without any [verifying] inspection or tests witnessed by the department, provided that verified statements and supporting inspectorial and test reports are filed with the department within [one] two working days of such tests.
312.8 – Storm drain systems within a building shall be tested by water or air in accordance with Section 312.2 or 312.3. Where storm drainage piping is designed to run full, the system shall be tested to withstand the head of 10 feet of water above the anticipated high water level.
Exception: Corrugated HDPE pipe installed outside of a building shall be tested to withstand the head of water equal to grade.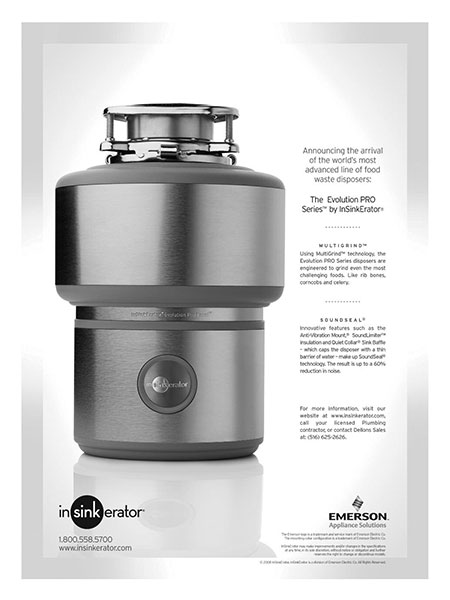 312.9 -Where shower floors and receptors are made water-tight by the application of materials required by Section 417.5.2, the completed liner installation shall be tested. The pipe from the shower drain shall be plugged water-tight for the test. The floor and receptor area shall be filled with potable water to a depth of not less than 2 inches measured at the threshold. Where a threshold of at least 2 inches high does not exist, a temporary threshold shall be constructed to retain the test water in the lined floor or receptor area to a level not less than 2 inches deep measured at the threshold. The water shall be retained for a test period of not less than 15 minutes, and there shall not be evidence of leakage.
312.10.1 -Annual inspections shall be made of all backflow prevention assemblies, air gaps, spill-proof vacuum breakers, pressure vacuum breaker assemblies, and hose connection backflow preventers to deter-, mine whether they are operable on forms provided by the department. Such forms shall be retained by the owner and shall be made available upon request to the department for a period of five years.
312.10.2- Reduced pressure principle backflow preventer assemblies, double check-valve assemblies, pres-,sure vacuum breaker assemblies, reduced pressure detector fire protection backflow prevention assemblies, and double check detector fire protection backflow prevention assem-,blies, hose connection backflow preventers, and spill-proof vacuum breakers shall be tested at the time of installation, immediately after repairs or relocation, and annually thereafter. Refer to Section 608.13 and the Department of Environmental Protection for additional testing requirements."
314.1.1- Condensate from all fuel-burning appliances and associated flues shall be neutralized to a pH of at least 6 and no more than 8 prior to disposal to a sanitary system.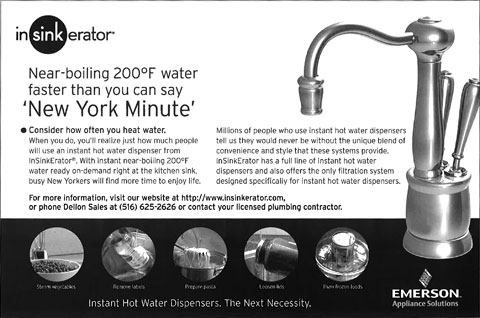 314.2.3 – Where damage to any building components could occur as a result of overflow from the equipment primary condensate removal system, a new additional option for protection has been added. A water-.level detection device shall be provided that will shut off the equipment served in the event that the primary drain i blocked. The device shall be installed in the primary drain line, the overflow drain line, or in the equipment-supplied drain pan, located at a point higher than the prima1y drain line connection and below the overflow rim of such pan. Section PC 403 of the New York City plumbing code is repealed and a new section PC 403 is added to cover Minimum Plumbing Facilities. It is a 6 page new section covering fixture calculations, various occupancy types, a new table of required fixtures and a new table covering the minimum number of required fixtures.
406.3 – Automatic clothes washer that discharge by gravity shall be permitted to drain to a waste receptor or an approved trench drain.
407.2 -Bathtubs shall have waste outlets a minimum of 1 and 1/2 inches in diameter. The waste outlet shall be equipped with an approved stopper, and a built-in overflow shall be provided. Note: The overflow language was missing from the 2008 version.
408.3 – The discharge water temperature from a bidet fitting shall be limited to a maximum temperature of ll0°F (43°C) by a water temperature limiting device conforming to ASSE 1070.
413.1 – Domestic food waste grinders shall conform to ASSE 1008. Food waste grinders shall not increase the drainage fixture unit load on the sanitary drainage system. Food waste grinders shall be permitted only within dwelling units.
416.3 – Lavatories shall have waste outlets not less than 1 and 1/4 inches in diameter. A strainer, pop-up stopper, crossbar or other device shall be provided to restrict the clear opening of the waste outlet. Where a stopper is utilized, a built-in overflow shall be provided.
The New York City plumbing code is amended by adding a new section 416.5 to read as follows:
416.5 – Tempered water shall be delivered from public hand-washing facilities. Tempered water shall be delivered through an approved water-temperature limiting de ice that conform to ASSE 1016 or ASSE 1070 or CSA B 125.3.
Exception: Where point of use heaters are installed, outlet water temperature shall be regulated to provide tempered water.
Sections 417.2 and 417.3 of the New York City plumbing code are amended to read as follows:
417.2 – Water supply risers from the shower valve to the shower head outlet, whether exposed or concealed, shall be attached to the structure. The attachment to the structure shall be made by the use of support devices designed for use with the specific piping material or by fittings anchored with screws.
417.4.2 – The shower compartment access and egress opening shall have a mm1mum clear and unobstructed finished width of 22 inches. Shower compartments required to be designed in conformance to accessibility provisions shall comply with Section 404.1. The New York City plumbing code is amended by adding new sections 417.5.1 and 417.5.2 to address shower compartment floors. It covers supports as well as the materials of PVC, sheet lead and sheet copper.
Section 419.4 – Waterless urinals reiterates that approved waterless urinals may be utilized only as part of an approved building water conservation plan.
A new section 421.5 is added to address access to whirlpool bathtub pumps. It states that access shall be provided to whirlpool bathtub circulation pumps in accordance with the fixture or pump manufacturer's installation instruction . Where the manufacturer's instructions do not specify the location and minimum size of field-fabricated access openings, a 12-inch by 12-inch minimum sized opening shall be installed to provide access to the circulation pump. Where pumps are located more than 2 feet from the access opening. an 18-inch by 18-inch minimum sized opening shall be installed. A door or panel shall be permitted to close the opening. In all cases, the access opening shall be unobstructed and of the size necessary to permit the removal and replacement of the circulation pump.
424.3 – New language has been added stating that hand-held showers shall provide backflow protection in accordance with ASME A112.18.1 or CSA B125.1 or shaD be protected against backflow by a device complying with ASME Al12.18.3.
424.4 – Multiple (gang) showers supplied with a single-tempered water supply pipe shaD have the water supply for such showers controlled by an approved automatic temperature control mixing valve that conforms to ASSE 1069 or CSA Bl25, or each shower head shall be individually controlled by a balanced-pressure, thermostatic or combination balanced-pressure/thermostatic valve that conforms to ASSE 1016 or CSA B125 and is installed at the point of use. Such valves shall be equipped with a means to limit the maximum setting of the valve to 120°F ( 49°C), which shall be field adjusted in accordance with the manufacturer's instructions. Sections PC 502 and 504.6 of the New York City plumbing code are amended. They cover the elevation of water heater ignition sources, clearances for maintenance and replacement of appliances and relief outlets ofT and P valves.
Section 606.1 has been modified to clarify the location of water distribution supply valves. Shutoff valves are required on the supply and discharge side of every water sub-meter, on the top of every water down-feed pipe and on the base of every up-feed pipe in occupancies other than one- and two-family residential occupancies, on the water supply pipe to each sillcock and on the water supply pipe to each appliance or mechanical equipment.
Section 606.5.3 – All water supply tanks shall be equipped with a lockable cover to prevent access by unauthorized persons or vermin. Such cover shall be tamper-proof and equipped with a local alarm.
Section 606.7 of the New York City plumbing code has been amended. This amendment covers the requirement of sub-meters in water distribution pipe lines serving a commercial cooking facility, commercial laundry facility or commercial gym or spa to measure the amount of water supplied through such lines.
CONTINUATION OF CODE REVISIONS IN FUTURE PIPECASTERS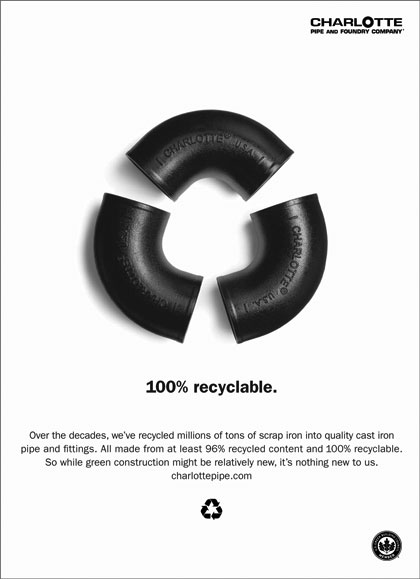 FOUNDATION'S ENVIRONMENTAL STATEMENT
Since its establishment in 1986 the Plumbing Foundation has worked diligently to ensure that the plumbing industry has as little a "carbon footprint" on New York City as possible. The plumbing industry has historically utilized environmentally friendly materials like recycled cast-iron and copper piping/fittings. The Foundation will continue its role of protecting New York City as well as being an advocate for the environment by strengthening its water/sanitary regulations thereby lessening the City's wasteful water consumption.
THE PIPECASTER is published by The Plumbing Foundation City of New York, 44 West 28th Street., 12th Floor. New York, New York; (212) 481-9740; Fax: (212) 481-7185. Lawrence J. Levine, Chairman; Thomas Maniuszko, Vice Chairman; Louis J. Buttermark, Treasurer; Stewart O'Brien, Executive Director; Terence O'Brien, Editor. Board of Directors: George Bassolino, Paul Belli, Marc Breslaw, Raymond Cardoza, Harris Clark, Lawrence J. Levine, Adam Levy, Scott Lyons, Robert Ricco, John Scarpinito